This post is sponsored by Total Gym. I received product and compensation in exchange for my time and editorial consideration. However, all opinions remain my own.
The training I do to stay competitive in obstacle course racing often commandeers a significant amount of time in my already-packed week. Hours are spent improving endurance by running long distances, building speed on the track, Olympic lifting at the gym to gain strength to do things like flip tires and carry heavy things, and plenty of skill work including throwing spears, balancing, and jumping. 
Whew. As a working mom, I literally sometimes can't get it all done. So, when I'm really pressed for time, I try to squeeze in a short morning run and then jump on my Total Gym® later in the day for a quick, light workout to tide me over.
With Total Gym® at home, I can get a surprisingly comprehensive, full-body workout in 20 minutes or less and get on with my to-do list. A short sweat session is better than no sweat session! This home gym has also been a great way for me to get in some active recovery after a mega-day of Spartan training, going to the CrossFit box, or a big race.  An active recovery workout,  is a great way to help flush out some of that joint stiffness and muscle soreness – as long as you don't do too much!
Today, I'm sharing a Total Body Express Workout I put together for times when life is hectic or need some active recovery on the day following a hard workout or race. The home workout only takes about 15 minutes, from start to finish with another 5 minutes or so of foam rolling (with the roller attachment) and stretching to optimize recovery time and mobility. Although this workout is a quickie, I can turn this into a focal workout for the week by increasing the resistance, the number of sets, and/or adding more challenging moves.
Another convenient thing about this home gym is that it arrives assembled and ready to set up without tools. I did it all myself, whoohoo! The attachments are also easy to switch out between exercises, with most securing via post-in-hole or via latch pins. My two favorite attachments are the AbCrunch (really felt the burn with it) and the Roller (ahhh, it feels so good). (The Roller does not come included with the Total Gym but can be purchased separately)

Example of the Total Gym Fit model I used (l), included attachments (m) and extra roller attachment (r)
Total Gym® meets the needs of a wide range of abilities, including those just getting into shape or those who consider themselves fierce athletes.  It works by combining your body-weight with a variable-angle incline to create resistance. In simple terms, the steeper the angle, the heavier the workload.  A handy chart is included that lets you calculate exactly how much weight you are using depending on your body weight and incline level.  Additionally, most of the exercises can be modified in other ways to be more or less challenging.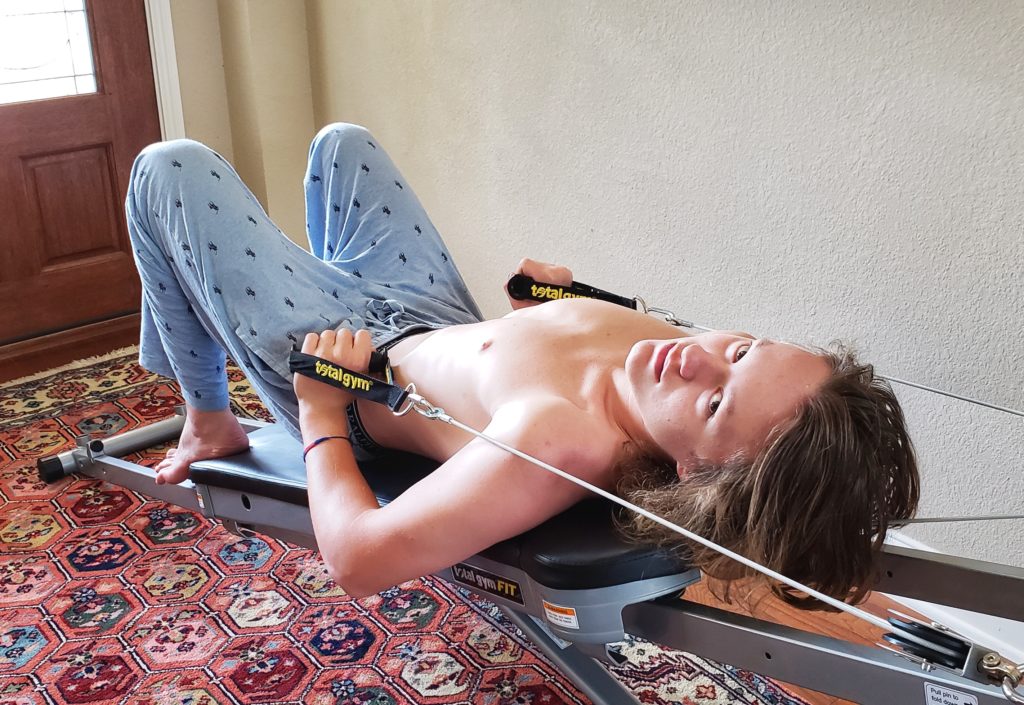 My teenage son hoping to "get ripped" with the Total Gym.
There are 86 exercises in the included training deck and, honestly, hundreds of other ways to use Total Gym® with some imagination (safety first, though)!
Don't miss this fun, fast "Full Body Express Workout" with Total Gym #totalgymdirect #ad
Click To Tweet
Pin this for later!
What is your home workout routine? Would you rather wake up 20 minutes earlier to get in a workout, or battle rush hour traffic getting to the gym? Do you have a race or fitness event coming up? Let's chat in the comments, XOXO – Jennifer