Check out how we made wall-mounted plywood shelves for our home gym.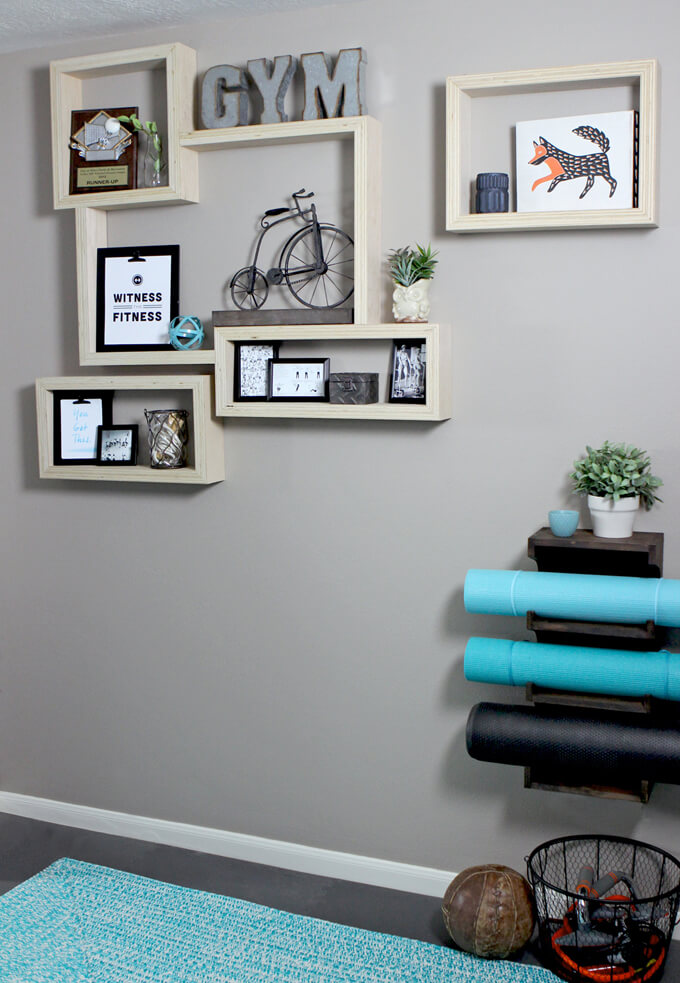 The past few weekends we tackled a pretty large project for our home gym, a huge wall of plywood shelves with an exposed edge.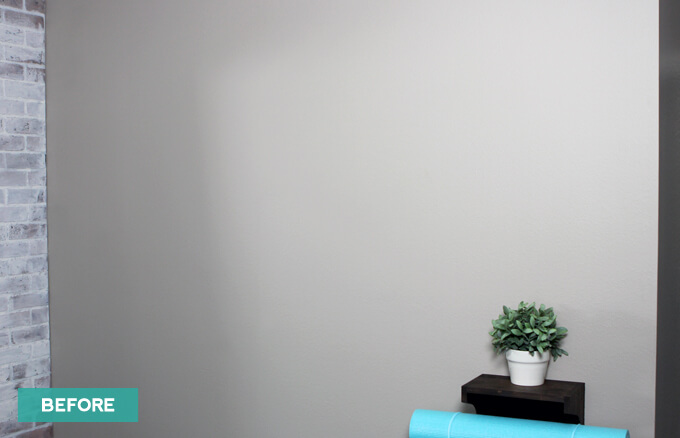 We had initially intended to have a large piece of art on this wall but I am learning that it is always a good idea to be flexible when it comes to designing and decorating your home because you never know when a better idea could come along.
After giving it some more thought we changed our minds and decided it would be fun to make the shelves into a form of art by creating a design of different shapes. It is quirky but we love it!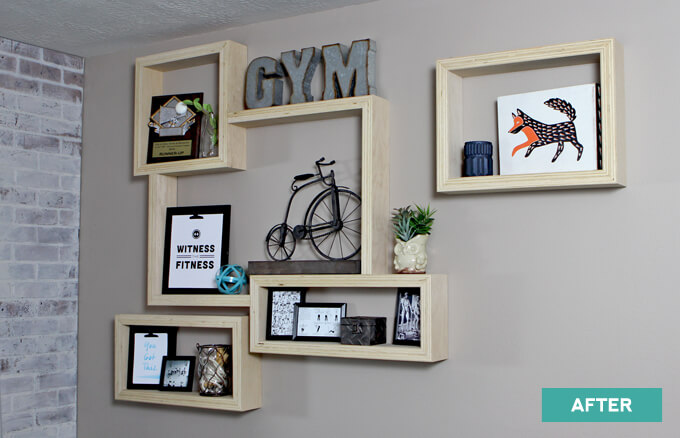 Can you believe we made all those shelves with just one piece of plywood?Check out how we made our DIY wall-mounted plywood shelves below.
How to Build Plywood Shelves
SUPPLIES
Shop the products we used for this project in one place.
Blue Painters Tape
3/4 in. x 4 ft. x 8 ft. Maple Plywood
Table Saw
Wood Glue
Small Clamps
Miter saw
Ratchet straps
Large Clamps
Stud Finder
Drill
Wood Screws
Kreg Jig R3 Pocket Hole Jig System
FYI: This post contains a few affiliate links to products we used to make this project. Gray House Studio does receive commissions for sales from these links but at no extra cost to you. We appreciate you supporting this site. Read our privacy and disclosure policy. You can also easily shop our recommended products here.
TUTORIAL VIDEO
Subscribe to our YouTube Channel
Like our video? Subscribe and help us reach our goal of 100k subscribers.
STEPS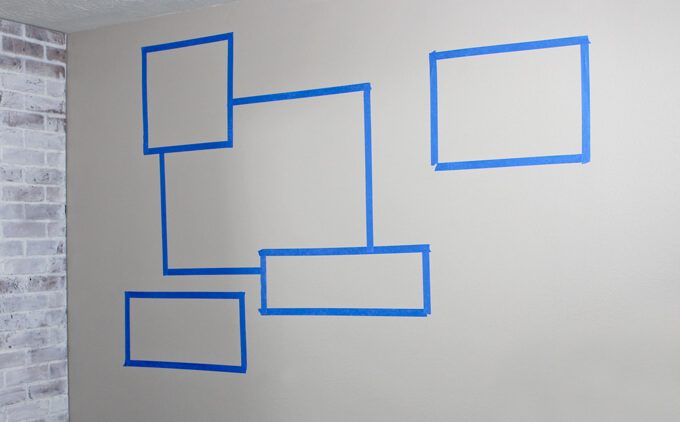 1. We used blue painters tape to first create the shapes of the shelves on the wall. This helped us determine the exact measurements we needed to cut the wood.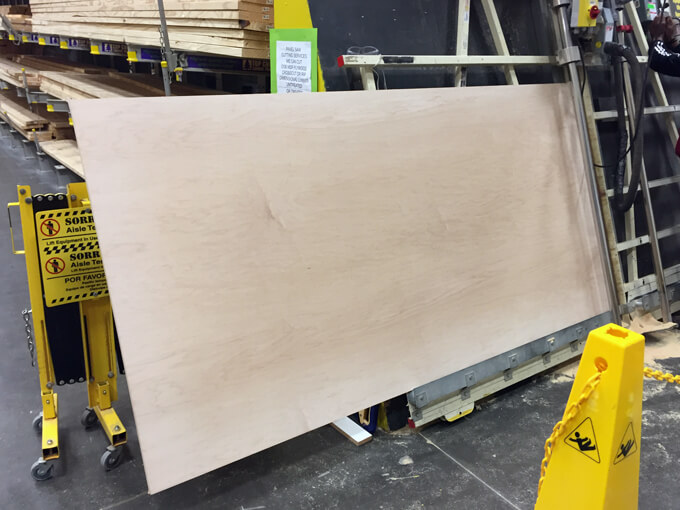 2. We bought a large piece of really nice plywood to use for our shelves. We had our local hardware store cut down the piece into smaller sizes so it would be easier to work with and fit in our car.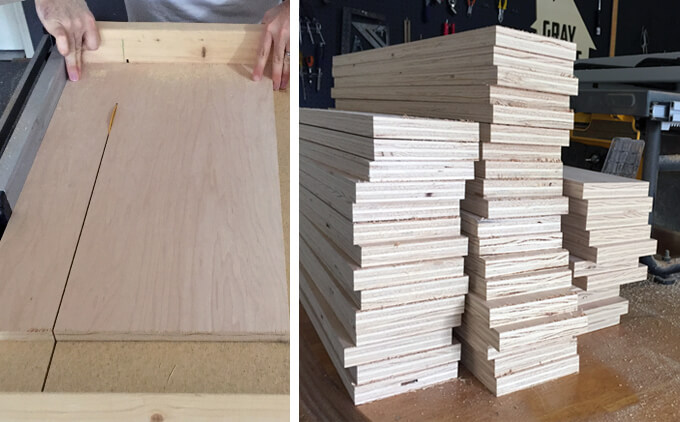 3. Next, we had to cut down the large pieces of plywood into many, many, many smaller pieces using our table saw.
Brent made a crosscut sled to make the process easier and to make sure each board was cut to the exact the same size.
I helped keep the boards steady. To save time and energy, we cut all the boards to be the same size which was the longest side on the shelves.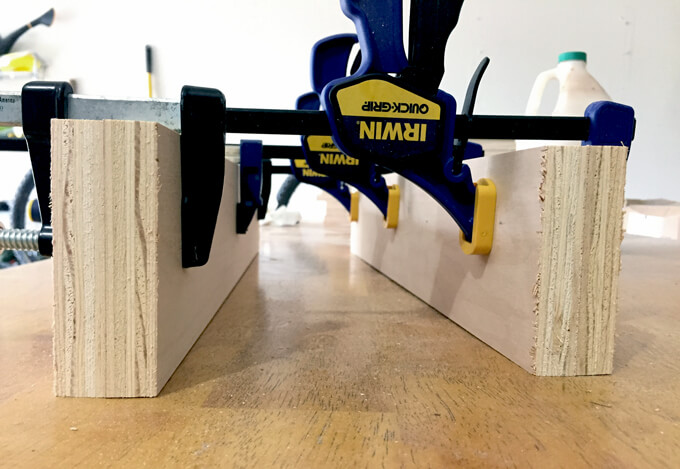 4. We wanted the shelves to be nice and thick so for each piece of the plywood shelves we used wood glue to attach the boards together and then used our small clamps to keep them together them while they dried in place.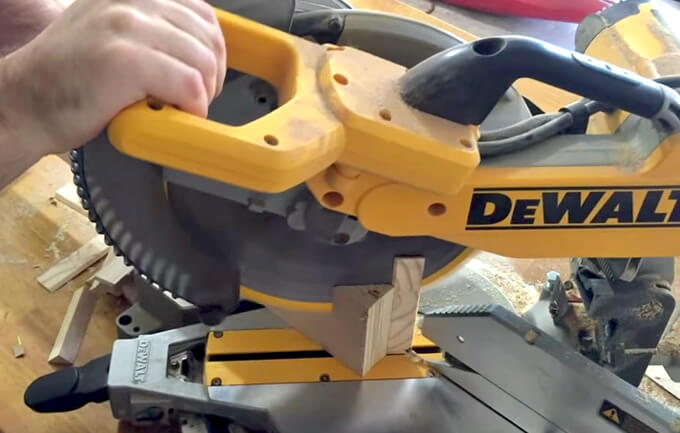 5. After the boards were dry, we used a miter saw to cut the boards down to size at a 45 degree angle so the boards would go together like a picture frame.
We used a backing board to prevent tear out so all the boards would be nice and smooth.
6. We applied wood glue to each corner of the smaller shelves and then put them together using scrap boards and a ratchet strap that held the pieces tightly in place as they dried.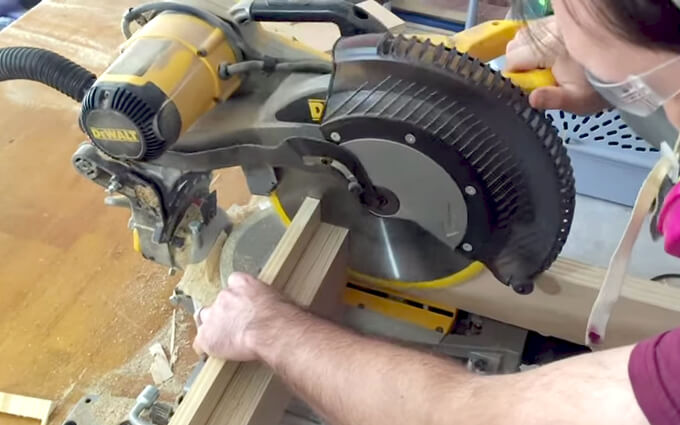 7. For the large shelf we used the miter saw to cut the piece into two L shapes.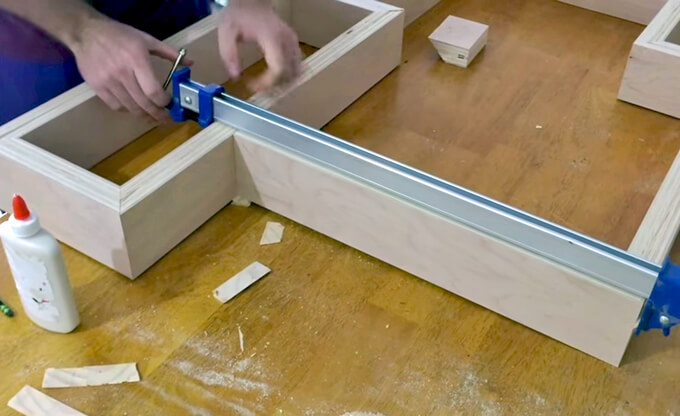 8. We glued the two L shape pieces to the two smaller shelves and then used large clamps to hold the piece in place while the glue dried. This completed the large shelf assembly.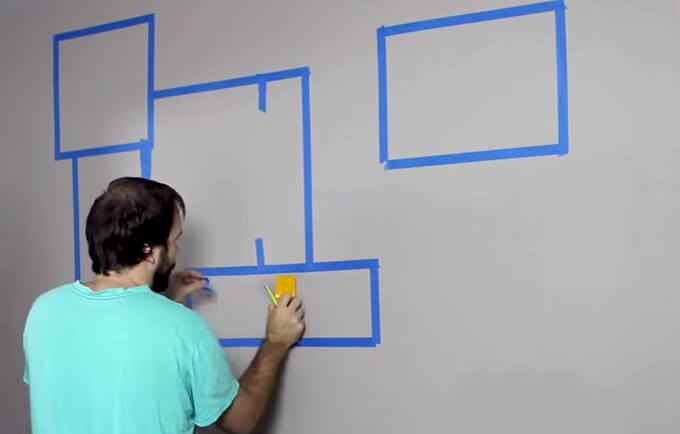 9. Back in the room we used our stud finder to located where each screw needed to go so it was in a stud. We marked these spots with painters tape. We also marked these same spots on the shelves.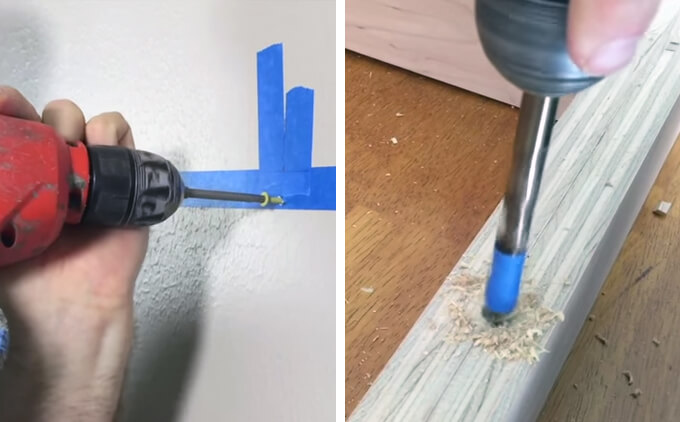 10. Before removing the tape on the wall, we used the marks we made with the tape to locate where to secure the screws in the wall and used a drill to make holes in the shelves in the same location to match.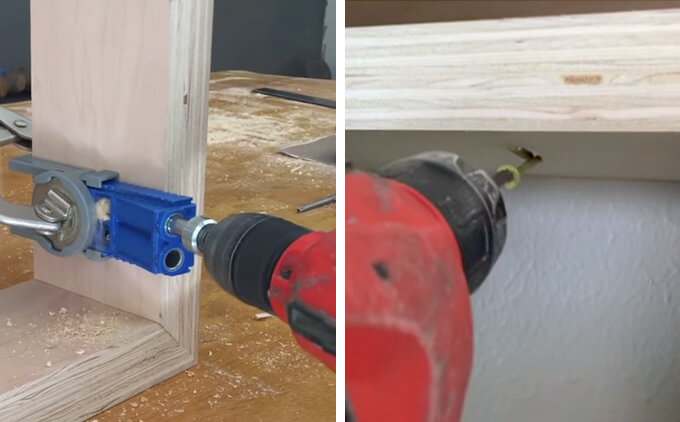 11. We used a Kreg Jig pocket hole jig system to create pocket holes to anchor the shelves into the wall with the wood screws.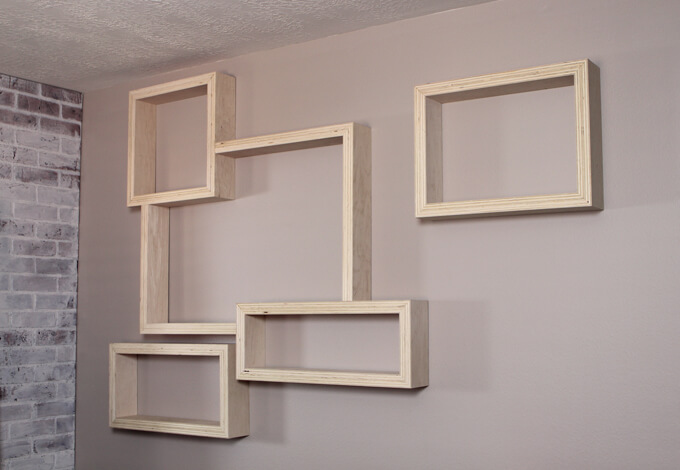 12. Finally, we got all of our shelves up hanging on the wall.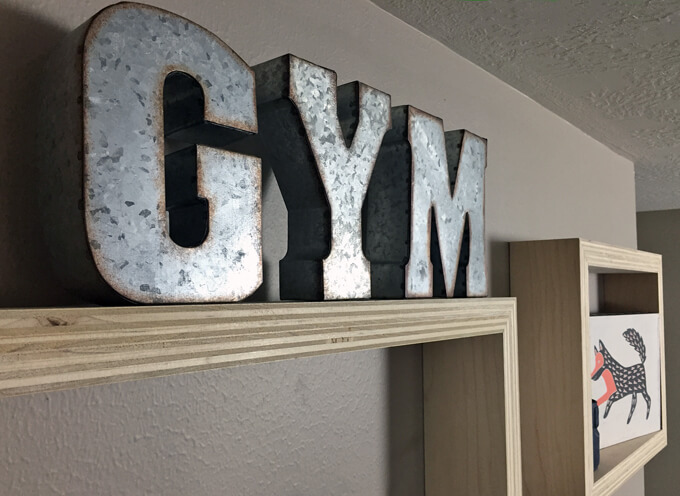 I went out one day shopping to try and find items to fill up our new shelves that would fit the right depth, had a vintage/industrial feel, were quirky, and not too expensive.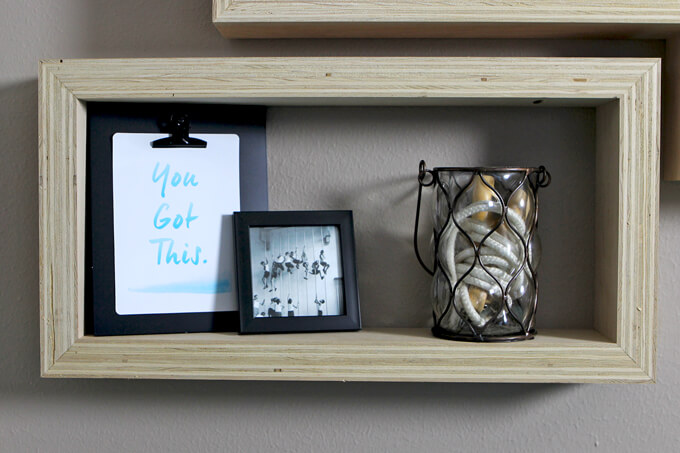 I am a shopping novice so I was a little intimidated to get all the items in one trip but with my measurements, a tape measure and a photo, I managed to get the exact right amount of items to decorate the shelves.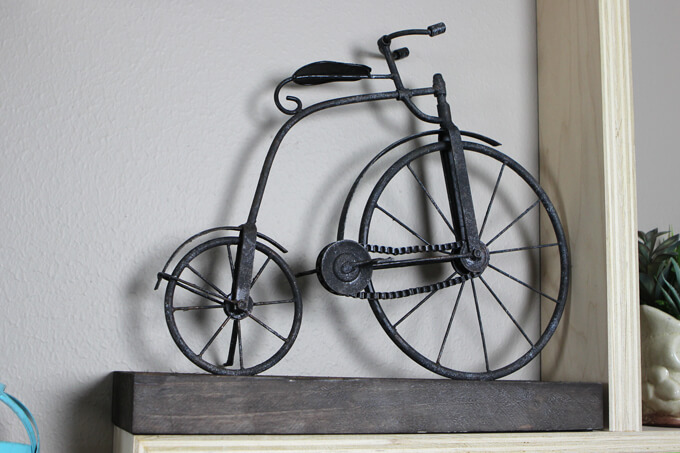 This bike was a really cool find.
I did measure everything depth wise before I bought it to make sure it would fit on the plywood shelves but I didn't realize the bike would fit perfectly on the one area of the shelf. It was like it was like the bike was made for the shelf or the shelf was made for the bike.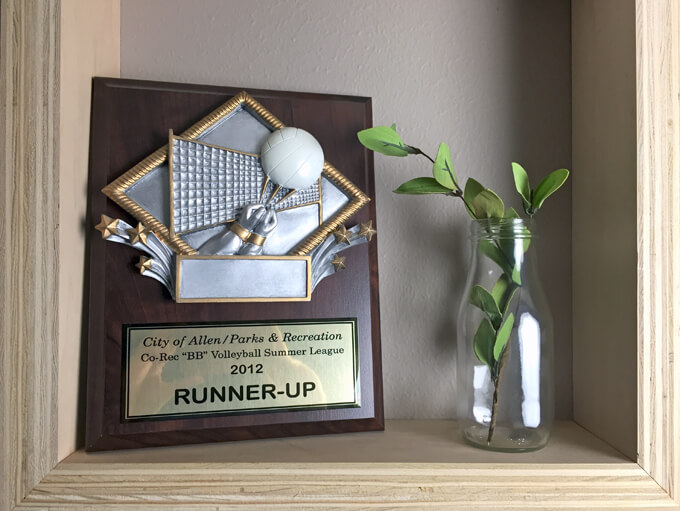 I love playing volleyball so obviously I had to display my super awesome summer 2012 runner-up Parks & Recreation co-ed volleyball team plaque from back when I lived in Dallas. We did win a couple of seasons but somehow when we got runner-up it was my turn to take the plaque home.
Funny how that works…oh well. I have been waiting patiently to find a place to showcase this beauty. Haha.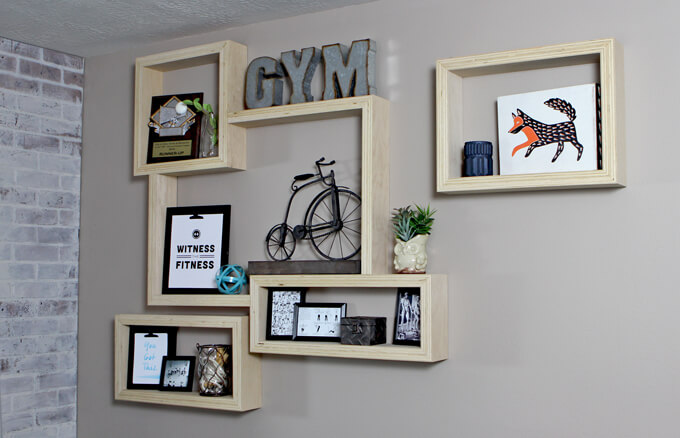 We are extremely happy with how the shelves turned out. They are quirky and fun which makes us happy. If there was anywhere you could get away with eclectic shelving, I think a home gym is the place.
I would like to report that since the shelves went up in the home gym last weekend I have worked out in there 4 out of the 5 week days this week which is my new record since we bought the treadmill. Is there a correlation? Maybe, just maybe.
The room is shaping up to be a really enjoyable space to spend our time. We only have a few projects left in this room which include building a locker area, new lighting, building a stand for weights, and to do something cool with the window. We can't wait to get this room finished!
In the meantime be sure to catch up on some of our other home gym projects:
painting a faux brick wall, yoga mat rack, gym details, vintage gymnasium clock, choosing gym floor mats
PIN IT FOR LATER