I'm so excited to share our $100 basement home gym today!  For the past four weeks, I've been busy transforming part of our dark, creepy, unfinished basement into a clean, useful home gym with an industrial flare.
As if that wasn't difficult enough, I took this project on for the $100 Room Challenge.  If you don't know, the $100 room challenge is a challenge started by Erin from Lemons, Lavender, and Laundry to make over one room in your home in only one month with a $100 budget.  Definitely challenging!
This is my third time taking part in the $100 Room Challenge; last year I made over our main bathroom and our family room and I was so thrilled with what I was able to do in both spaces with my tiny $100 budget.  This time I decided to tackle our basement home gym.  My husband has been using one side of our unfinished basement as his home gym for several years now but it hasn't exactly been the nicest place to work out.  Check out these terrible before pictures.  The space didn't exactly make you want to jump in and start working out.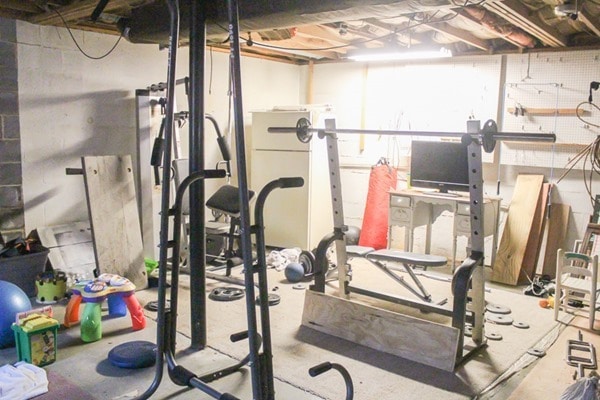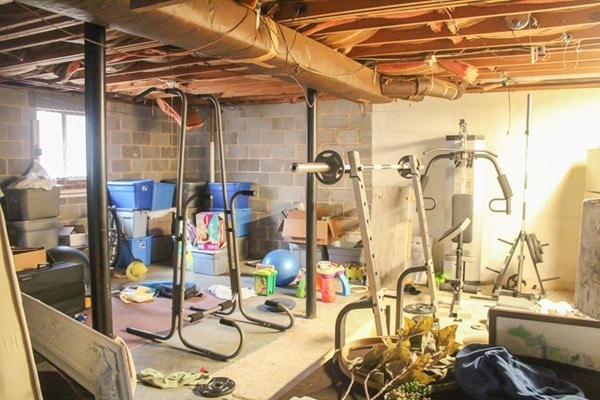 As I shared last week, this wasn't the most fun space to work on.  I spent most of my time down there clearing out piles of junk, prepping cinder block walls for paint, and scrubbing everything down.  Not so fun.  But thankfully I finally got all of that stuff out of the way and got to add some fun industrial touches.
Ready to see how it looks now?  (I apologize that the picture quality isn't the best.  You can probably imagine how difficult it is to take good pictures in a basement  with difficult lighting and poles everywhere you turn.)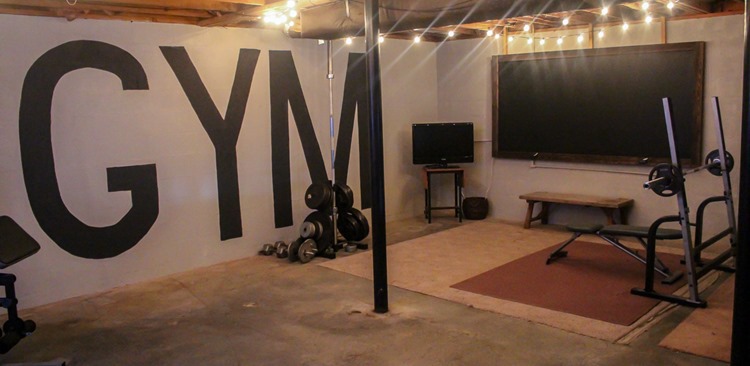 This space has come such a long way!  It is much more masculine and industrial than my usual aesthetic but the industrial vibe is perfect for the unfinished basement space.  I mean when you're working with exposed rafters and block walls, I'm pretty sure industrial style is the only thing that's going to make sense.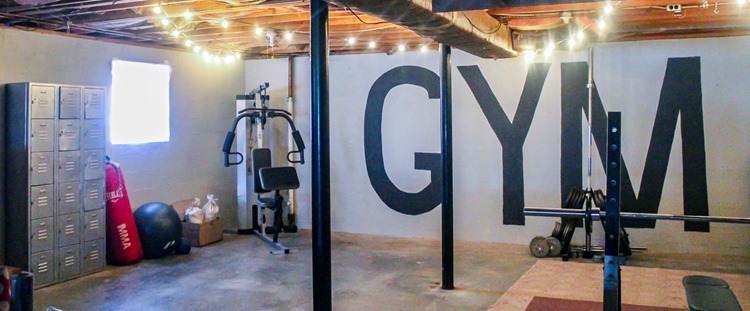 This makeover started with doing lots of cleaning and decluttering.  I took the chain link off the window and removed some pegboard and other random things from the walls.  Then I primed and waterproofed the unpainted section of the cinder blocks walls.  And then finally, we could get down to the good stuff.  I painted the walls Sherwin Williams Repose Gray  and then added the huge letters spelling GYM with some leftover black paint. (To paint the letters, I drew a basic outline on the wall using sidewalk chalk and then filled it in with paint.)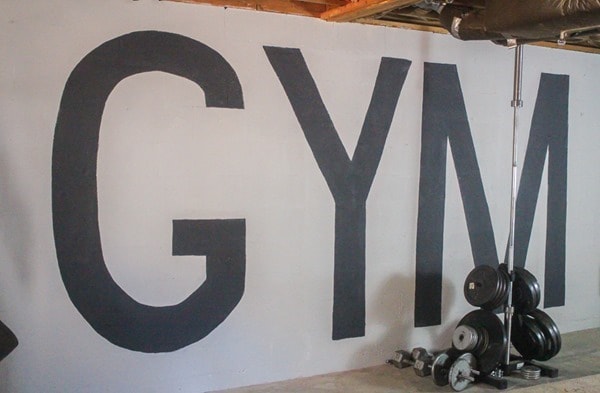 The huge chalkboard was another DIY project that I will have a tutorial up for soon.  It was so inexpensive to make and it looks gorgeous.  It's fantastic in this space but it would also look perfect in a playroom, family room, even a farmhouse style dining room.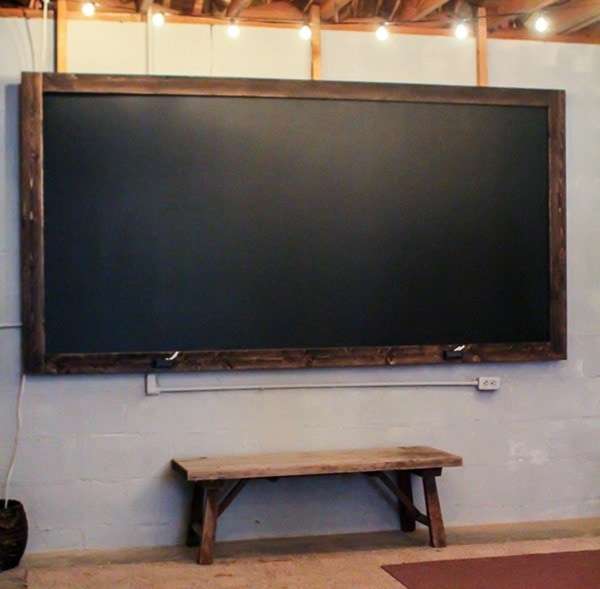 Along the bottom of the chalkboard frame are two upside down bin pulls from to hold chalk.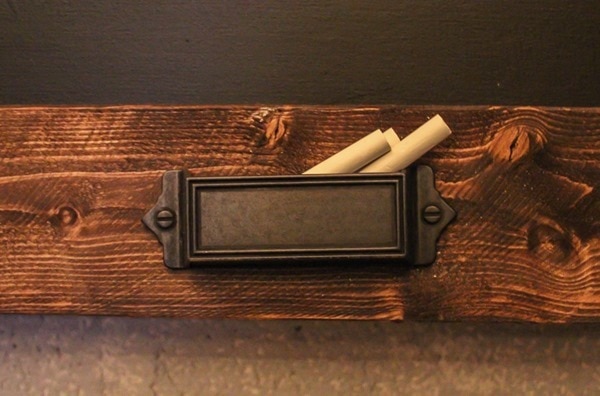 I moved the TV from the girly vanity it was sitting on to this old typewriter stand.  The size isn't perfect but it works.  The little basket holds the power strip that the TV and lights are plugged into as well as a small space heater we sometimes use.  The typewriter stand and the rustic bench were both things that were already in the basement from previous thrifting adventures.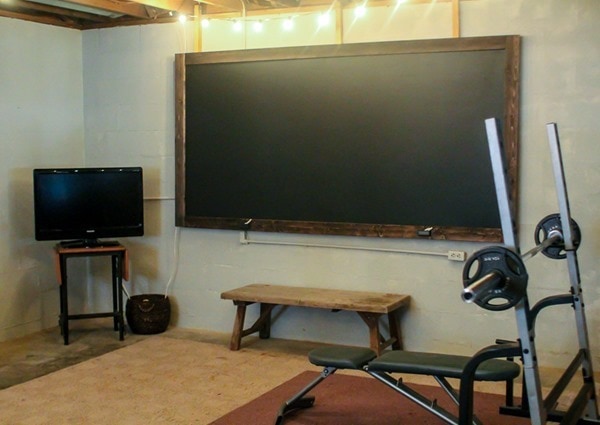 We also already owned the lockers too.  I found them a few years ago at a yard sale for only $10 looking rather sad.  You can see all the details on their makeover right here.  We've had them in our master bedroom for the past few years but I was ready for a change in there and I knew they would be perfect in our home gym.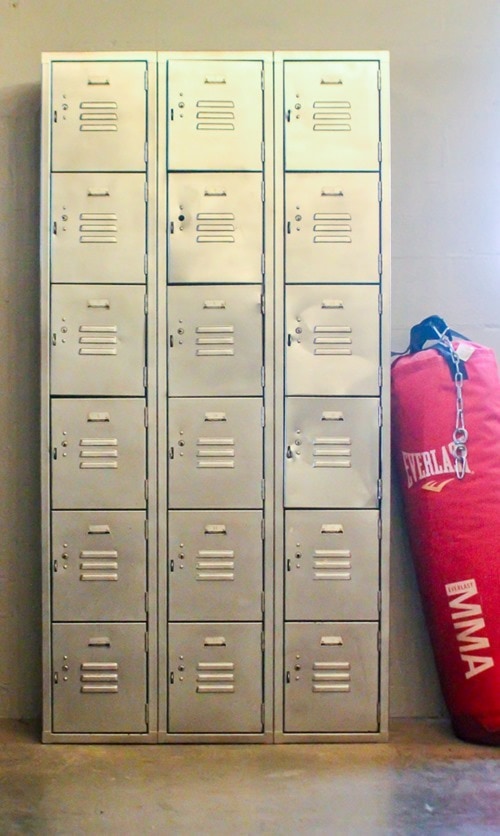 The lights were another huge change in this space.  Before there was a fluorescent light in one side of the space and a bare bulb hanging down on the other side.  We removed the fluorescent fixture completely and added a 50 ft. string of lights hanging from the rafters.  It warms up the space so much and helps make it feel cozy even though it's still open to the rest of the unfinished basement.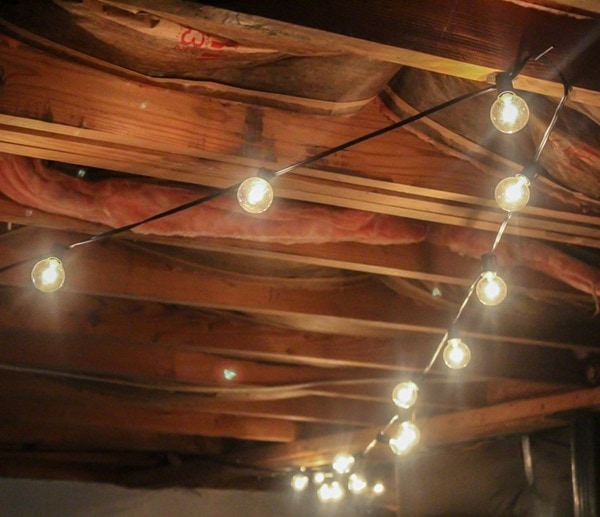 I would have loved to paint the exposed rafters as well, but there was already insulation installed so it just wouldn't have made sense.
Of course, it was also important that this space actually works well as a gym.  There's no point in having a nice looking gym if it doesn't function for working out!  My husband was the brainpower behind most of the layout.  One half has a large open area with lots of space to move around.  There's also a hook on the ceiling in that area for hanging the punching bag.  The other side contains the weight bench and all of the free weights.  The lockers hold smaller dumbbells, gloves, jump ropes, kettlebells, and other small things.
Here are a couple of before and after comparisons.  Talk about a crazy difference!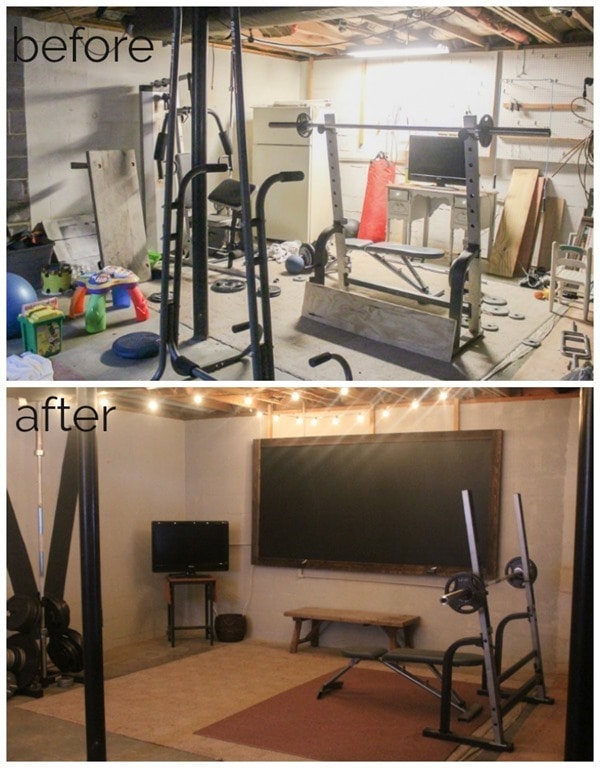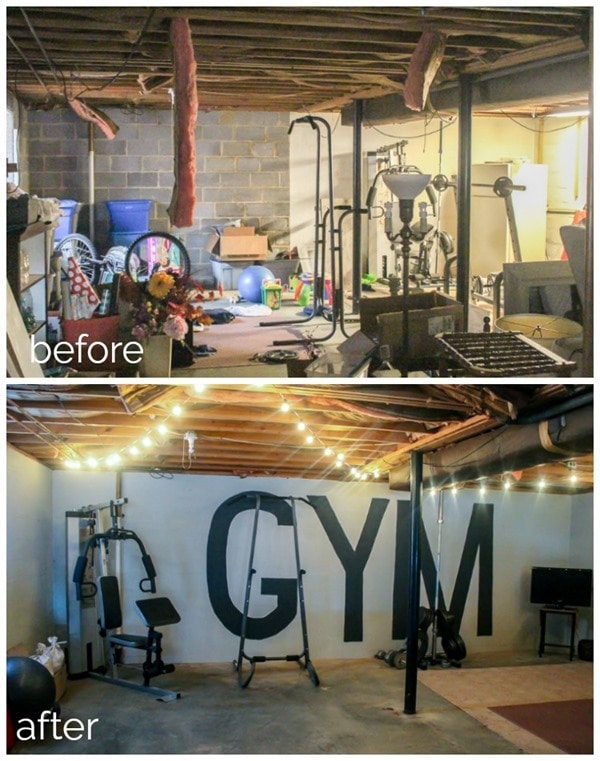 Okay, so as always, the big question is did we stay on budget?
Well, as I explained last week, we did have to spend $60 on materials to fill the cinder block walls to prepare them to be painted.  I've decided not to count that in the budget for this makeover.  It's more of a home improvement project that needed to happen regardless and isn't really specific to the room design.  (I go into more detail here if you really care.)  So not counting that, here is the budget breakdown for the space.
This post contains affiliate links which means if you make a purchase after clicking a link I will earn a small commission which helps keep my blog up and running but it won't cost you a penny more.  Click here to see my full disclosure policy.
Basement Home Gym Budget and Source List
Paint for walls: Sherwin Williams Repose Gray mixed in Valspar Masonry paint, $26
Paint roller for highly textured walls: $4
Paint for GYM letters: already owned, free
Materials for chalkboard: $21
Pulls for chalk holders: already owned, free (these are the same ones if you are interested)
these are the same ones if you are interested: $28
Lockers, typewriter stand, bench: already owned, free
All of the weights and equipment: already owned, free
Total: $79
Woo-hoo, not bad at all!
See everything related to my $100 home gym makeover right here:
Week 1: Basement Before Pictures
Week 2: Industrial Home Gym Plans
Week 3: Trick to Finally Decluttering the Basement
Week 4: Basement Home Gym Update: The Final Stretch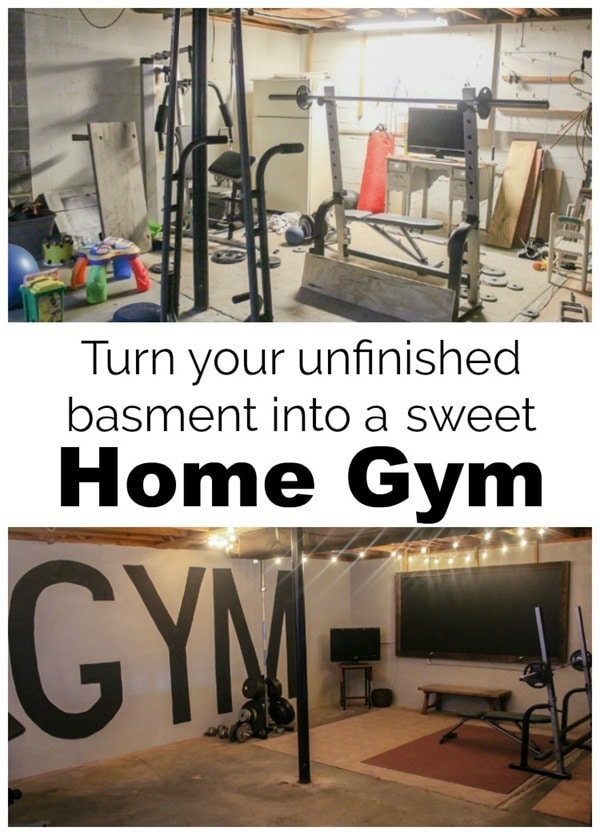 And in case you missed them, you can see my other $100 room makeovers here:
$100 Modern Farmhouse Bathroom Reveal
$100 Family Room Reveal
Now I am super excited to see how the rest of the spaces in the $100 Room Challenge turned out.  I know there are going to be some amazing reveals! You can see them all using the links below.

An InLinkz Link-up